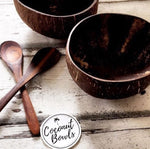 Coconut Bowls - New to Tropical Interiors
These coconut shell bowls are hand made from real coconuts reclaimed after being discarded as waste. Each coconut is cut, sanded and cleaned before being finished with an organic coconut oil polish. Absolutely nothing artificial is used during the process from coconut to coconut bowl. 
Each bowl is unique with it's own shape, size, colour and markings. Every coconut bowl is one in a billion, just like you.