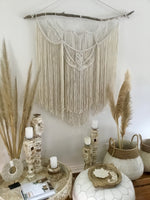 Back in the 1970's  maccramé was one of the in things. You could make loads of groovy things and myself for one was addicted to making plant/pot hangers. I think everyone in the family received one as a Christmas gift and Mum had them hanging all over the house.

Macramé owls and different styles of wall hangings became the handicraft of choice for the flower child decade. My bedroom was covered in Pink flower wallpaper and my Queen Anne bed had a chenille bedspread and I had a macrame hanging on the wall. Growing up in the 70's was fun.

Everything has its time and with getting older my room had a makeover and everything was gone especially the macrame as I thought is was daggy.
Now 40 years on I have to admit that my macrame obsession is back. With the bohemian fashion in home decor becoming very popular we now have macrame & crocheted items being made into cushion covers, bed throws, wall hanging, hammocks and the good old plant hanger is once again fashionable.

Tropical Interiors has a large range of Macrame, please browse our catalogue under Macrame & Boho Gypsy Decor to view our range.
Love & Peace