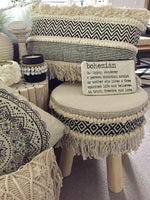 What is Bohemian or Boho style?
What is Bohemian or Boho style?
The word "Bohemian" comes from the French word for "gypsy," and it applies to those who live unconventional artistic lives. 
Bohemian Style Tips: Mix Old's and News's. The sky is the limit, I love to hunt around markets & Op shops for retro cane's pieces. Mix these with cushions, macrame pieces, poufs, plants, lamps, throw rugs or whatever else makes you happy. Remember, you're trying to create a cosy space full of life, colour and a sense of the well-travelled, gypsy soul, free spirited person you are.
Shop our range of Boho Inspired items.
https://www.tropicalinteriors.com.au/collections/boho-gypsy-decor